Some 46 000 people visited Dog Fair Finland last weekend in Helsinki.
About 22 000 dogs in total participated in the dog shows Helsinki Winner 2017, Nordic Winner 2017 and Winner 2017 as well as in Helsinki Puppy Show and Voittaja Puppy Show.
– The event was very successful, says the Chair of the Winner Show Committee Kari Järvinen. Thank you to all participants – exhibitors and visitors, our partners Royal Canin Finland and Agria Eläinvakuutus, judges and ring stewards as well as the numerous volunteers, the people at the Finnish Kennel Club's office and subsidiary companies, together you created a wonderful event.
Helsinki Winner 2017 started Dog Fair Finland
At Friday's Helsinki Winner 2017, the Wire-haired Dachshund Magik Rainbow Verino Roberto Gold was Best in Show. The dog is owned by Victoria Ivanova from Russia.  Best in Show judge was Luis Pinto Teixera from Portugal.
Best in Show veteran was Tarja Salo's Tibetan Terrier Fabulous Teddy's Daniel's Wanderer, judge was Annukka Paloheimo. Best in Show Breeder's Group was the group of Finnish Hounds from Mauri and Marja Kuivas' kennel Kahvanahon, chosen by Arne Foss from Norway.
The last ticket to the Finnish Championship final in Junior Handling was also given on Friday. Anni Leinonen, the winner of age group 14–17-year olds, powered her way to the final by defeating Bellarina Nurminen, the winner of age group 10–13-year olds. The last Finnish Championship event in Junior Handling before the final was judged by Denis Sabolic, Croatia.
Complete results from the Helsinki Winner 2017 dog show can be found here.
More than 7500 dogs at Nordic Winner 2017
Smooth Collie Clingstone's Make My Day was chosen as Best in Show at the Nordic Winner Show 2017 held on Saturday. The dog is bred and owned by Satu Asikainen. The Best in Show judge was Kari Järvinen.
Judge Marja Talvitie chose the Finnish Spitz Loukkaharjun Lapinukko, owned by Päivi Silomäki and Toivo and Anni Lielahti, as Best in Show Veteran. The Best in Show Breeder's Group was Satu Asikainen's Clingstone's Smooth Collies, the judge was Irina Poletaeva.
You can read more about Nordic Winner 2017 here. Complete results from the Nordic Winner 2017 dog show can be found here. Results from Helsinki Puppy Show, which was also held on Saturday, can be found here.
Bichon Frisé Best in Show at Winner 2017
The final day of Dog Fair Finland culminated in the group competitions of Winner 2017. Rainer Vuorinen, who ended his long career as a dog show judge at this show, chose Marella Närkki's Bichon Frisé Jitterbop Clap Your Hands as Best in Show. Vuorinen, who is a very respected dog show judge around the world, has always emphasised the importance of the breed standard when judging as well as the fact that the dog is the star of the show ring.
Best in Show Veteran was Marja Kuivas' Finnish Hound Kahvanahon Mehtätähti. The best veteran was chosen by Saija Juutilainen.  Tapio Eerola chose as Best in Show Breeder's Group a group of Afghan Hounds from Annika Wirma-Fagerlund's kennel Pramya.
The best dog of a Finnish breed was also chosen at the show. This competition was won by the Finnish Lapphund Jehnajan Tumpelo, owner Raili Ojanperä. The winner was chosen by Kari Järvinen.
Some 7 600 dogs participated in Winner 2017 and nearly 900 puppies in Voittaja Puppy Show.
Complete results from Winner 2017 can be found here. Results from Voittaja Puppy Show, also held on Sunday, are here.

Best in Show at Helsinki Winner 2017 was the Wire-haired Dachshund Magik Rainbow Verino Roberto Gold. The dog is owned by Victoria Ivanova from Russia. Also in the picture: Country Manager for Agria Eläinvakuutus Anna Linder, Brand Manager for Royal Canin Finland Laura Honko, the Finnish Kennel Club's Honorary Chair Helena Suni, Best in Show judge Luis Pinto Texeira and the Chair of the Winner Show Committee Kari Järvinen. Picture: Heidi Örling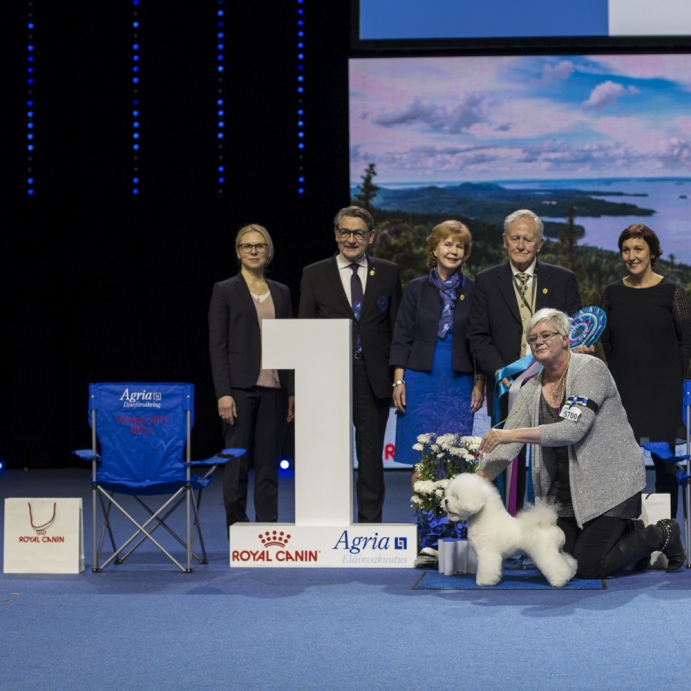 Rainer Vuorinen chose Marella Närkki's Bichon Frisé Jitterbop Clap Your Hands as Best in Show at Winner 2017. In the picture from the left: Country Manager for Agria Eläinvakuutus Anna Linder, the Chair of the Winner Show Committee Kari Järvinen, Honorary Member of the Finnish Kennel Club Angela Cavill, BIS judge Rainer Vuorinen and Country Manager for Royal Canin Finland Tessi Romell. The winning dog was handled by Jaana Kauppinen. Picture: Heidi Örling

In honour of Finland's 100 years of independence, an impressive breed cavalcade opened the final competitions of Winner 2017 on Sunday. Picture: Jukka Pätynen